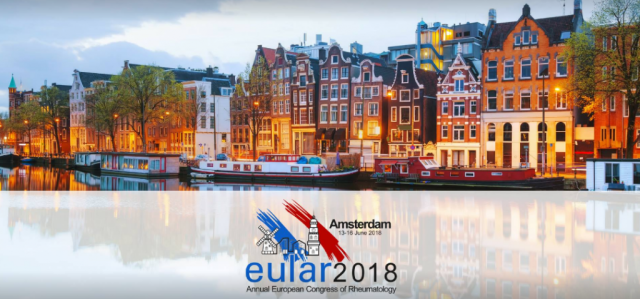 2018-6-14 15:30-17:00 Hall 7.1

最新进展(WIN):SpA 的诊断与分类,Victoria Navarro-Compán (Spain) 15:35
中轴型脊柱关节炎患者(axSpA)的早期诊断越来越有意义。现如今,治疗 axSpA 的几种疗法已经显示出对控制疾病症状和体征的有效作用,并且如果在疾病的早期阶段给药,治疗效果可能更好。然而,早期诊断的目标并不容易实现。与大多数风湿性疾病相似,axSpA 在其表现、病程和结果上是不同的,并且没有单一的临床、实验室、病理或放射学特征作为其诊断依据的金标准。随着新疗法的推出,许多研究都集中在如何对 axSpA 进行早期诊断。
另外,关于 axSpA 的分类和诊断之间的差异仍然存在一些混淆。在临床实践中,如果缺乏诊断标准,分类标准通常用于协助疾病的诊断过程。基于此,目前的分类标准是否应该进行修改仍存在争议。在本次会议期间我们将强调 axSpA 诊断和分类的新见解。
SP0063
WIN SESSION: ABOUTDIAGNOSIS AND CLASSIFICATION OF SPONDYLOARTHRITIS
V. Navarro Compán1,*
1Rheumatology,University Hospital La Paz, IdiPaz, Madrid, Spain, Madrid, Spain
Abstract: In patients withaxial spondyloarthritis (axSpA) an early diagnosis is becoming progressivelymore relevant. Nowadays, several therapies have shown to be efficacious tocontrol disease symptoms and signs and they are even more useful ifadministered in early stages of the disease. However, the aim of an earlydiagnosis is not easy to achieve. Similar to the majority of rheumaticdiseases, axSpA is heterogeneous in its presentation, course, and outcome, anddoes not have a single clinical, laboratory, pathological, or radiologicalfeature to serve as a gold standard in support of diagnosis. With the newtherapies available, many research studies are focusing on how to make an earlydiagnosis of axSpA. 
Additionally, some confusion remains about differencesbetween classification and diagnosis of axSpA. In clinical practice, in theabsence of diagnostic criteria, the classification criteria are often used toassist in the diagnostic process of a disease. Based on this, there is anongoing debate about whether or not the current classification criteria shouldbe revised. During this session, the new insights on diagnosis andclassification in axSpA will be highlited.
Disclosure of Interest:None declared
DOI: 10.1136/annrheumdis-2018-eular.7752
最热话题(HOT):SpA 疾病管理最新进展,Sofia Ramiro (Netherlands) 16:15
在过去的几年里,治疗脊柱关节炎(SpA)的策略越来越多。除了非甾体类抗炎药(NSAIDs)和肿瘤坏死因子(TNF)抑制剂外,我们现在还在日常临床实践中用 IL-17 阻断剂来治疗具有中轴型 SpA 患者。这种治疗方案的增加导致 ASAS-EULAR 管理建议的更新,这将在本次讲座中讨论,并提供证据支持。
目前,正在进行一些关于停止生物制剂治疗患有非活动性疾病的中轴型 SpA 患者的研究,并将讨论第一个可用的结果。SpA 达标治疗的策略正在逐渐形成。过去几年我们收集了更多关于这种方法的证据,目前正在进行战略性试验。
抑制结构进展仍然是 SpA 的热门话题。目前我们的干预措施是否可以取得这样的成果尚不完全清楚,与此相关的挑战将在本次讲座中讨论。更多的数据已经出现,帮助我们更深入地了解疾病活动与结构损伤之间的复杂关系以及治疗对其的影响。
SP0064
HOT SESSION: RECENT ADVANCESIN THE MANAGEMENT OF SPONDYLOARTHRITIS
S. Ramiro1,2,*
1Rheumatology,Zuyderland Medical Center, Heerlen, 2Rheumatology, LeidenUniversity Medical Center, Leiden, Netherlands
Abstract: In the last yearsthe treatment armamentarium for spondyloarthritis (SpA) has been expanded. Inaddition to non-steroidal anti-inflammatory drugs (NSAIDs) and tumor necrosisfactor (TNF)-inhibitors, we nowadays count in daily clinical practice withIL-17-blockers for the treatment of patients with axial SpA. This increase intreatment options has led to an update of the ASAS-EULAR managementrecommendations, which will be discussed in this lecture, together with theevidence supporting them.
Currently, severalstudies on tapering to stop biologics in patients with axial SpA with inactivedisease are being conducted and the first results available will be discussed.The path is being paved for a treat-to-target approach that is gaining shape inSpA. More evidence towards such an approach has been gathered throughout thelast years and strategy trials are now ongoing.
Inhibition ofstructural progression remains a hot topic in SpA. Whether or not the currentinterventions we have can achieve such an outcome is not yet fully clear, andthe challenges related to this will be discussed in this lecture. More data hascome out to help us gain more insight into this complex relationship betweendisease activity and structural damage and the effect of therapy on it.
Disclosure of Interest:S. Ramiro Grant/research support from: MSD, Consultant for: Lilly, Novartis,AbbVie
DOI: 10.1136/annrheumdis-2018-eular.7645
2018-6-15 15:30-17:00 Hall 7.1
最新进展(WIN):如何早期诊断 RA?Karim Raza (United Kingdom) 15:35
最热话题(HOT):RA 治疗最新进展?Maya Buch (United Kingdom) 16:15
风湿性关节炎(RA)的现代管理是以确立明确的治疗目标为原则,通过有效的 DMARDs 治疗策略,来尽量减少不良后果。随着治疗目标和新的达标治疗方法的不断发展,RA 的管理继续取得进展,本次 HOT 会议将总结我们对整个 RA 疾病进程演变的理解和管理,包括处于 RA 风险的早期和晚期 RA 疾病的风险状态。
会议最热话题:
(i)  如何阻断从自身免疫紊乱发展为 RA 疾病?
(ii)基于当前 RA 治疗既定的策略,如何为 ERA 诱导缓解提供最佳机会?
(iii)如何进行药物减量?
(iv)如何使用最近的合成 DMARDs 药物和生物靶向疗法?
(v)当 RA 患者遇到并发症(如心血管疾病)时如何治疗?
SP0118
RECENT ADVANCES IN THETREATMENT OF RHEUMATOID ARTHRITIS
M. H. Buch1,2,*
1NIHRLeeds Biomedical Research Centre, Leeds Teaching Hospitals NHS Trust, 2LeedsInstitute of Rheumatic & Musculoskeletal Medicine, UNIVERSITY OF LEEDS,Leeds, United Kingdom
Abstract: Modernmanagement of rheumatoid arthritis (RA) is underpinned by the principle ofestablishing a clear treatment goal through the efficient strategic use ofDMARDs in order to minimise adverse outcomes. With evolving ambitions and newtargeted therapies, ongoing advances in the management of RA continue to bemade: this HOT session will summarise our progress in the understanding andmanagement across the RA disease continuum; including the state of at risk ofRA status to early and later RA disease. In particular, the session will focuson studies that inform on (i) the ability to potentially abrogate progressionfrom autoimmunity to development of RA disease (ii) currently identifiedstrategies that offer the optimal opportunity for remission induction in ERA(iii) ability to drug taper and (iv) use of recently introduced synthetic andbiologic targeted therapies. Finally, with co-morbidity outcomes includingcardiovascular disease, another key focus in the contemporary management of RA,developments in improving this area of health concern will also bepresented. 
Disclosure of Interest:None declared
DOI: 10.1136/annrheumdis-2018-eular.7800